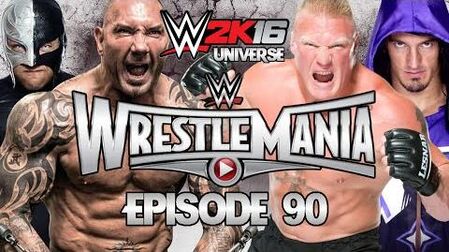 WrestleMania V was a special event produced by WTXJaichi. It took place on April 3rd 2016 in Austin TX. The show was hosted by all 3 brands.
Background
WrestleMania V was the fifth WrestleMania to take place within the WTX Universe, the event is preceded by King of the Ring and will be followed in early May by Backlash from Raw.
The show featured 18 matches, making it one of the biggest events within WTX Universe history, featuring 15 championship matches as well as a 6-Man Money in the Bank Ladder Match as well as an inter-promotional 20-Man Yokozuna Memorial Battle Royal.
The first match to be confirmed was revealed on Raw the night after No Way Out. As the 2016 Royal Rumble winner, Rey Mysterio, was making his way to the ring he was attacked by newly crowned World Heavyweight Champion, Batista. Mysterio stated that Batista had forced his hand and so Mysterio decided to challenge Batista for his championship at WrestleMania, moving to the SmackDown brand in the process. Following this announcement, former champion Brock Lesnar stated that he had a rematch clause for Batista's championship, invoking it at King of the Ring with Mysterio facing the winner at WrestleMania for the championship. In the weeks heading into King of the Ring, former contender Neville continued to persist for the World Heavyweight Championship, stating that Mysterio did not deserve the opportunity more than Neville. On an episode of SmackDown a one-on-one match took place between Neville & Mysterio, with Mysterio's WrestleMania main event at stake, the winner would get to challenge the World Heavyweight Champion at WrestleMania, whilst the loser would be forbidden to be involved with the championship until after WrestleMania. Mysterio went on to defeat Neville, banning him from the championship. At King of the Ring Lesnar went on to defeat Batista via count-out, due to this, Lesnar had a victory over Batista, however, Batista was still champion. As a solution to this, Lesnar was added to Batista vs. Mysterio at WrestleMania, making it a Triple Threat Match. On the SmackDown following this announcement, Lesnar defeated Mysterio in a one sided matchup, with Mysterio only lasting roughly five minutes. The following week, Mysterio was forced to give Neville one last chance to help his odds, Mysterio said if Neville could defeat Lesnar one on one, he could join the match at WrestleMania. On that same episode of SmackDown, Neville finally defeated Lesnar, confirming a Fatal 4-Way World Heavyweight Championship Match for WrestleMania's main event.
The second match announced came at King of the Ring, where Triple H won an 8-Man Tournament, last pinning Kevin Owens, to earn himself a WWE Championship Match at WrestleMania against Randy Orton. Earlier in the year, Triple H abandoned his tag team with Shawn Michaels, assaulting him and claiming he wanted the WWE Championship. Upon Michaels' return in the King of the Ring tournament he stated he would do anything to stop him, however, Michaels was defeated by Kurt Angle in a quarter final match. The following night on Raw, Michaels stated that although he couldn't stop Triple H, he can get in his way a little more, the same night, Michaels faced Triple H in the main event, defeating Triple H on Raw. A match between Michaels and Orton was booked for the final Raw with the stipulation that if Michaels wins, he will be added to the WWE Championship Match at WrestleMania.
The third main event will see Pentagon Jr. defend his NXT Championship against Kevin Owens. In weeks prior to WrestleMania, Kevin Owens made it his objective to be the most successful Intercontinental Champion of all-time, defeating every other champion on the NXT brand. Owens went on to defeat most champions until he was booked to defend his championship after King of the Ring. That night Owens was assaulted, specifically having his legs weakened for his match with challenger, Ric Flair. Flair took advantage of the injuries, defeating Owens via submission for the championship. Owens later revealed that it was NXT Champion Pentagon Jr. who attacked Owens. Due to Owens' recent success, he was given the choice to invoke his rematch against Flair for WrestleMania or challenge Pentagon, to which Owens decided to challenge Pentagon for his NXT Championship.
Another match confirmed for WrestleMania was the annual Money in the Bank Ladder Match, featuring two superstars from all three brands. The first qualifiers took place on NXT, with Cesaro & AJ Styles earning spots in the match. On SmackDown two more participants were revealed as Daniel Bryan won a spot in the matchup, however, instead of a second qualifier it was announced that Tyler Breeze would be the second SmackDown participant, with WrestleMania being his first appearance since his injury prior to No Way Out. Raw's participants are set to be revealed on the final Raw before WrestleMania.
Another big match confirmed for WrestleMania is the Yokozuna Memorial Battle Royal, this match will see 20 superstars face off in a Royal Rumble-like battle royal with the winner, in honour of former United States Champion, Yokozuna, earning a future opportunity at the United States Championship. This battle royal will feature superstars from across all three brands, however, only Wolfe Kessler & Dean Frost have been confirmed so far.
Regarding the United States Championship, in recent months the champion, John Cena, was challenged by Booker T & Mil Muertes repeatedly. Following No Way Out, Sami Zayn & Chris Jericho began pursuing the champion also. Following a non-title victory over Jericho, champion Cena was assaulted backstage with all four challengers being potential suspects. However, upon Cena's return, as he was to reveal who it was he was attacked by CM Punk, revealing himself as the attacker, Punk went on to lose to Cena. Due to all the controversy surrounding this, Cena will defend his championship inside of an elimination chamber for the first time ever at WrestleMania, defending against Booker, Muertes, Zayn, Jericho & Punk.
Global Champion, Finn Balor is also set to defend his championship at WrestleMania, as after capitalizing off of Ambrose's focus on former rival Wolfe Kessler, Ambrose will challenge Balor in a rematch for the Global Championship.
Following his return to Raw, The Undertaker was set to announce his intentions for WrestleMania, however, he was attacked by Baron Corbin. Corbin stated in an interview later on that he wanted to defeat The Undertaker one-on-one to cement his legacy as a future WWE Champion. Undertaker responded to this, challenging Corbin to an unsanctioned match at WrestleMania, to which Corbin accepted.
On an episode of Raw not long before King of the Ring, Chad Gable went one-on-one with the returning Scott Hall, who had been absent for months. Hall went on to squash Gable. Due to this Chad Gable alongside Jason Jordan challenged for and became World Tag Team Champions, after their championship victory they quickly moved on from former champions Angelico & Son of Havoc, giving them their rematch and then demanding a championship match at WrestleMania against Scott Hall & Kevin Nash, to which Hall & Nash have accepted.
The NXT Tag Team Championships will be defended at WrestleMania between the current reigning champions, Heath Slater & PJ Black and the team "Perfection" Curtis Axel & Mr. Perfect, after Axel & Perfect picked up victories over the champions in singles contest as well as top contenders Stone Cold & Brian Pillman in recent weeks.
After the disqualification finish between Edge & Christian and the WWE Tag Team Champions, Luke Harper & Erick Rowan at King of the Ring, a rematch was set for WrestleMania, pitting the two teams against each other in a TLC Match.
Regarding the womens championships, on Raw a Women's Championship matchup took place between reigning champion Trish Stratus and former champion Lita, resulting in Lita getting herself disqualified, she requested a TLC Match between her and Stratus for the championship at WrestleMania, an idea which Stratus turned down. However, Raw General Manager Jonathan Coachman later would confirm that the TLC Match would indeed take place. On NXT, no challengers stepped up as NXT Women's Champion, Becky Lynch focused more on her Diva's Tag Team Championship reign with Alice Lovecraft. However, on the March 26th edition of Main Event, the team imploded as Lovecraft walked out on Lynch, losing their championships to Paige & Natalya. A match between Lovecraft & Lynch was quickly confirmed for the NXT Women's Championship at WrestleMania.
As for the Diva's Championship, upon an unexpected challenge from luchadora Sexy Star, Asuka was on the losing end of an upset matchup. Star then went on to announce her intentions to be the first luchadora champion, setting up a Diva's Championship rematch for WrestleMania.
Also on the March 26th edition of Main Event, the final three WrestleMania matches were partially confirmed, as Darren Young would defeat Rob Van Dam to earn a shot at R-Truth's WTX Championship. Following the Diva's Tag Team Championship matchup, it was announced that with the former champions disbanding, Emma & Alexa Bliss would get another opportunity, confirming Paige & Natalya vs. Emma & Alexa Bliss for the Diva's Tag Team Championship.
The final match has yet to be fully confirmed as Stardust will defend his Cruiserweight Championship against a challenger from both Raw & SmackDown. On the March 26th edition of Main Event, Drago won a match against Tyson Kidd to be the Raw superstar to challenge Stardust, however, the SmackDown superstar will be decided on the final Main Event before WrestleMania.
Event
The event started with the Money in the Bank Ladder Match, seeing Tyler Breeze win, making him the first man in WTX Universe history to win two Money in the Bank matches. The show featured both, a lot of championship retentions as well as changes. Asuka managed to retain against Sexy Star with the Asuka Lock. Heath Slater & PJ Black added a last minute stipulation to their match, making it a Steel Cage Match after failing to retain in the stipulation at WrestleMania IV, however, Slater & Black would lose their championships to Perfection. Finn Balor defeated Dean Ambrose with a Coup de Grace to retain his championship. Darren Young earned an upset victory over R-Truth, defeating him with the Gut Check to win his first singles championship.
Becky Lynch defeated Alice Lovecraft, making her the first woman to defend the NXT Women's Championship at WrestleMania. American Alpha finally defeated The Outsiders, retaining their championships against them, as American Alpha made their entrance they introduced a surprise guest as Kurt Angle came out with them to watch the match from ringside, he did not get involved in the match however. Despite odds being against Stardust, he was able to defeat Kalisto & Drago in a Triple Threat. Natalya & Paige quickly retained their championships in their first defence against Bliss & Emma.
Ric Flair was also successful in his first defence, as whilst he failed to make Jake Roberts submit to his Figure 4 Leg Lock, Roberts passed out from the pain, leading to Flair getting the pinfall victory. Edge & Christian finally defeated Erick Rowan and Luke Harper to win their first tag team championships together after Christian hit the Killswitch and pinned Rowan for the victory. John Cena managed to continue his 192 day United States Championship reign, last eliminating Mil Muertes to retain his championship in the Elimination Chamber. In the final women's match of the night, Lita became a 3-time Women's Champion, defeating Trish Stratus after pushing Stratus out of the ring repeatedly and climbing the ladder to win. In the Unsanctioned Match, Undertaker defeated Baron Corbin after a competitive battle between the two, featuring Corbin kicking out of a lot of big moves from Undertaker in the match. The final match before the three main events saw Rikishi win the Yokozuna Memorial Battle Royal, last eliminating Sheamus to earn a United States Championship opportunity.
In the first of the 3 main events, Rey Mysterio won the World Heavyweight Championship, pinning Batista off of a 619 whilst Lesnar and Neville were fighting on the outside. The second main event saw Kevin Owens win the NXT Championship from Pentagon Jr. after a competitive match, continuing his gimmick of putting people away off of a single Popup Powerbomb to win the match. In the main event, Triple H became WWE Champion, catching Orton who was charging at him into a Spinebuster for the win.
Matches
Ad blocker interference detected!
Wikia is a free-to-use site that makes money from advertising. We have a modified experience for viewers using ad blockers

Wikia is not accessible if you've made further modifications. Remove the custom ad blocker rule(s) and the page will load as expected.