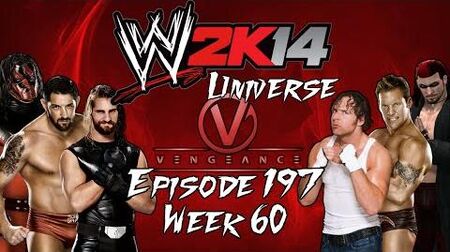 Vengeance (2014)
was a special event that took place within the WTX Universe. It took place 28th December 2014 and was hosted by the
RAW
brand.
Background
This is the first Vengeance event to take place within the series' history. It was the follow up to NXT Arrival in early December and will be followed by the first event of the year, Royal Rumble.
The event had seven matches, the first being the World Tag Team Championship match that was contested between the defending champions Bad Influence and the newly upcoming tag team, The Vaudevillains, who had competed every week heading into the event, as opposed to the defending champions who skipped every show in December.
The second match was set as a Four Way Ladder Match in which Mr. Money in The Bank Tyler Breeze was forced to defend his Money in the Bank contract due to lack of interest in cashing in the opportunity. Jonathan Coachman pitted Breeze against top Raw superstar Roman Reigns as well as SmackDown superstars The Hardy Boyz, Jeff & Matt Hardy.
The third match was set as a Diva's Championship match in which Toxic was to defend her championship against top contender Maryse .
The fourth match was made last minute to follow up to Ethan Carter III not qualifying for the World Heavyweight Championship Elimination Chamber set to take place later that night. EC3 claimed that the show was incomplete without him and that the fans alongside Raw needed him to compete, Jonathan Coachman followed up with this announcing that he would get a match against a surprise opponent that would be like nothing he's seen before.
The fifth match was a largely hyped Tag Team Match that featured the reunion of Team D-Z, a team consisting of Dolph Ziggler & Daniel Bryan. Bryan had initially come up with the idea to reunite the team despite past differences, however, Ziggler felt they were a bad team and that he was much better off as a singles performer. Rated RKO (a team consisting of Randy Orton & Edge) decided to target the two whilst they were at differences to further ignite issues between them. Rated RKO injured Ziggler briefly before Vengeance and whilst Ziggler was out he announced that at Vengeance Team D-Z would reunite, potentially only for one night, to face Rated RKO and get revenge.
The semi-main event was an Intercontinental Championship match which was a follow up to the Survivor Series match in which Team Raw (consisting of Cesaro & EC3) defeated Team NXT earning Cesaro an Intercontinental Championship opportunity that he invoked immediately to take place at Vengeance against champion Titus O'Neil. Cesaro would not be seen again following that event as he would go into personal training to prepare himself for the match. O'Neil took the time to further himself as a champion by challenging anyone to beat him before Vengeance for the championship. O'Neil survived all defences heading into the event to face Cesaro.
The main event was set as a World Heavyweight Championship Elimination Chamber Match immediately upon the announcement of Vengeance. Qualifiers took place over the prior weeks to determine the five participants for the chamber match, it was determined to be Seth Rollins defending his championship against The Great Destroyer, Dean Ambrose, Kane, Chris Jericho & Wade Barrett.
Results
World Heavyweight Championship Eliminations
| Order of Elimination | Wrestler | Entered | Eliminated by | Method of Elimination | Time |
| --- | --- | --- | --- | --- | --- |
| 1 | Seth Rollins | 1 | Wade Barrett | Pinned following Wastelands | 4:43 |
| 2 | Wade Barrett | 5 | Dean Ambrose | Pinned following Dirty Deeds | 3:59 |
| 3 | Chris Jericho | 3 | Kane | Pinned following Tombstone Piledriver | 7:01 |
| 4 | Kane | 6 | Dean Ambrose | Pinned following Downward Spiral from The Great Destroyer | 5:05 |
| 5 | Dean Ambrose | 2 | The Great Destroyer | Pinned following Downward Spiral | 11:48 |
| Winner | The Great Destroyer | 4 | - | - | 9:46 |
Ad blocker interference detected!
Wikia is a free-to-use site that makes money from advertising. We have a modified experience for viewers using ad blockers

Wikia is not accessible if you've made further modifications. Remove the custom ad blocker rule(s) and the page will load as expected.