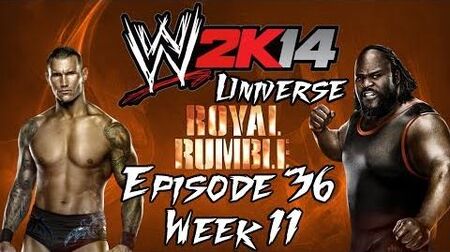 Royal Rumble (2014)
was a special event in the WTX Universe. The event ook place on January 19th 2014 from Philadelphia, PA.
Background
This was the third annual Royal Rumble event to take place in the WTX Universe. It was the first event to take place in 2014 and was the follow up to December event TLC 2013. The PPV was then followed by No Way Out 2014 in February.
There event featured seven matches, of which six championships were at stake as well as the Royal Rumble event in which 40 superstars face off in an over the top rope Battle Royal for a world championship match at WrestleMania III. The show featured matches from RAW, NXT & SmackDown, with each brand hosting two matches, followed by the Royal Rumble featured at least 10 superstars from each brand. From RAW, the event featured a United States Championship Match between newly crowned champion Sting and top contender Big E Langston. The show also featured RAW's world championship at stake in which Randy Orton defended the WWE Championship against Mark Henry. From NXT, the show featured their NXT Tag Team Champions, The United Kingdom's Drew McIntyre & William Regal, defending their championship against The Hard Knox, as well as NXT Champion Sheamus defending his championship in a Triple Threat main event against Shawn Michaels & Ted DiBiase Jr. in an Extreme Rules Match, though heading into the event, it was unknown if DiBiase would be able to perform, due to injuries caused by Sheamus leading into the event. From SmackDown, the show featured a long awaited grudge match between former friends Christian and Diamond Dallas Page over the Intercontinental Championship. SmackDown's main event featured CM Punk defending his World Heavyweight Championship against Paul Heyman's clients, Brock Lesnar, Goldberg & Rhyno in a Fatal 4-Way Match. The main event featured 10 superstars from each brand as well as 10 mystery entrants competing in the traditional Royal Rumble Match to determine who would first be in a world championship main event at WrestleMania III.
Event
To begin the show, Sting defended his United States Champonship successfully against Big E Langston, pinning him following a Scorpion Death Drop. Following this, Drew McIntyre & William Regal defended their championships successfully also, as McIntyre pinned Tensai following a Future Shock DDT. In the third and final lower card matchup, Christian finally defeated Diamond Dallas Page to win the Intercontinental Championship, pinning Page following his Killswitch finisher.
In SmackDown's main event, CM Punk retained his World Heavyweight Championship, pinning Goldberg off of a GTS whilst Rhyno was distracted, hitting Brock Lesnar with a Piledriver. In the NXT Championship match, Sheamus defeated both Shawn Michaels and Ted DiBiase Jr., who competed despite his injuries, after Sheamus hit a double team move on Michaels with DiBiase, and DiBiase allowed Sheamus to get the pin. In the final championship match of the night, Randy Orton defeated Mark Henry, pinning him following his traditional comeback sequence. In the Royal Rumble main event, Wade Barrett, who entered at #40, won the match by last eliminating the #39 entrant, Jake Roberts. Earning Wade Barrett a future world championship main event at WrestleMania III.
Results
Royal Rumble Eliminations
#
Entrant
Order of Elimination
Eliminated by

Time

(mins:seconds)

Eliminations
1
Bruno Sammartino
5
Eddie Guerrero
5:52
1
2
Batista
2
Bruno Sammartino
3:45
1
3
Raven
3
AJ Styles
3:03
0
4
AJ Styles
6
Damien Sandow
4:53
2
5
Stone Cold
1
Batista
00:33
0
6
Chris Jericho
4
AJ Styles
1:08
0
7
Damien Sandow
10
Cody Rhodes & Randy Savage
5:12
2
8
Eddie Guerrero
7
Mick Foley
2:33
1
9
Mick Foley
9
Randy Savage
2:57
1
10
Jeff Jarrett
8
Damien Sandow
1:41
0
11
Randy Savage
11
Cody Rhodes
2:50
2
12
Cody Rhodes
17
Konnor
7:21
4
13
Ric Flair
16
Cody Rhodes
6:07
0
14
Edge
15
Konnor
5:13
2
15
Hulk Hogan
12
Edge
1:55
0
16
The Miz
14
Edge
3:12
0
17
Antonio Cesaro
13
Cody Rhodes
00:44
0
18
Konnor
18
Kurt Angle
4:14
2
19
Kurt Angle
24
Rob Van Dam & Kane
7:18
4
20
Diesel
19
Andre The Giant
1:57
0
21
Andre The Giant
22
The Great Destroyer
3:04
1
22
Ryback
20
Kurt Angle
1:18
0
23
The Great Destroyer
23
Kurt Angle & Rob Van Dam
1:58
1
24
Kevin Thorn
21
Kurt Angle
00:10
0
25
Rob Van Dam
25
Bobby Roode
2:32
2
26
Kane
26
Bobby Roode
2:43
1
27
Bobby Roode
27
Dusty Rhodes
4:28
2
28
Kassius Ohno
37
Wade Barrett
13:28
4
29
Austin Aries
29
Kassius Ohno
3:32
0
30
Razor Ramon
28
Kassius Ohno
2:10
0
31
Dusty Rhodes
34
Crimzon
7:32
2
32
The Rock
30
Kassius Ohno
1:22
0
33
Adrian Neville
32
Dusty Rhodes
2:43
0
34
The Undertaker
33
Leo Kruger
3:38
0
35
Jeff Hardy
31
Kassius Ohno
00:53
0
36
Leo Kruger
35
Ultimate Warrior
2:35
1
37
Ultimate Warrior
36
Crimzon
2:32
1
38
Crimzon
38
Wade Barrett
5:16
2
39
Jake Roberts
39
Wade Barrett
5:02
0
40
Wade Barrett
Winner
N/A
4:12
3
Ad blocker interference detected!
Wikia is a free-to-use site that makes money from advertising. We have a modified experience for viewers using ad blockers

Wikia is not accessible if you've made further modifications. Remove the custom ad blocker rule(s) and the page will load as expected.