Royal Rumble (2012) was a pay-per-view produced by WTXJaichi and it took place on January 29, 2012 in St. Louis Missouri.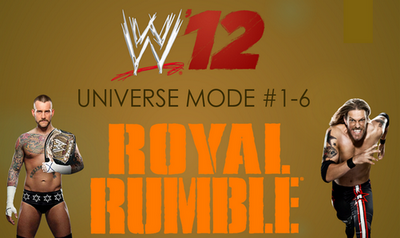 Background
This was the first WTX Universe show and Royal Rumble event to ever take place. The champions for the opening show were determined by multiple years being simulated. To further legitimize most champions, some had to defend their championships on the debut show. The event that followed this was Elimination Chamber 2012.
Six professional wrestling matches were booked on the event's card, with the traditional 30-man Royal Rumble Match as the main event of the show. The two major championships, the WWE Championship and the World Heavyweight Championship were both defended. The WWE Championship was defended in a submission match, and the World Heavyweight Championship was defended in an elimination fatal four way match. Also, the two minor championships, the United States Championship and the Intercontinental Championship were both defended in singles matches. Also scheduled on the card was a Triple Threat match for the Divas Championship.
Event
Three new champions were crowned. Ricky Steamboat managed to quickly defeat Kofi Kingston by submission to win the United States Championship. Beth Phoenix managed to win the Divas Championship after making Maryse tap out. The final title change was the World Heavyweight championship and Randy Orton won after last eliminating Eddie Guerrero by knockout.
There were also two title retentions, with Randy Orton defeated Michael McGillicutty by pinfall to retain the Intercontinental Championship, as well CM Punk defeating Shawn Michaels by submission in the WWE Championship submission match to retain the WWE Championship.
Edge won the Royal Rumble match after last eliminating The Miz to earn his main event spot at Wrestlemania XXVII where he will get a WWE Championship or a World Heavyweight Championship match.
Results
Royal Rumble Entrances and Eliminations
Eliminations in the World Heavyweight Championship Match
| Order of Elimination | Wrestler | Eliminated by | Method of Elimination | Time |
| --- | --- | --- | --- | --- |
| 1 | Vader | Eddie Guerrero | Pinned after a frog splash on the outside | 2:09 |
| 2 | Undertaker | Eddie Guerrero | Pinned after a chair shot and a DDT on the outside | 5:26 |
| 3 | Eddie Guerrero | Randy Orton | Got knocked out after an RKO inside the ring | 8:50 |
| Winner | Randy Orton | - | - | 8:50 |
Ad blocker interference detected!
Wikia is a free-to-use site that makes money from advertising. We have a modified experience for viewers using ad blockers

Wikia is not accessible if you've made further modifications. Remove the custom ad blocker rule(s) and the page will load as expected.