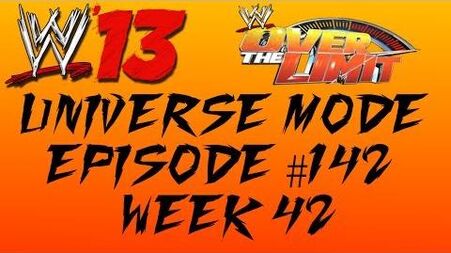 Over the Limit (2013)
was a special event in the WTX Universe. The event took place on 12th October 2013, from Buffalo, NY.
Background
This was the second Over The Limit event to take place within the WTX Universe. It took place following Night of Champions and was followed with the Season 2 finale, Hell in a Cell in October.
The event featured seven matches, each of which was contested for a championship across the RAW, NXT & SmackDown brands. From NXT, the event featured Ted DiBiase Jr. defending the Light Heavyweight Championship against Yoshi Tatsu in an Extreme Rules Match, as well as Sheamus defending the NXT Championship against Samoa Joe. From RAW, the show featured The Disciples of Darkness defending the World Tag Team Championship in a rematch from Night of Champions against The Real Americans, this time in a Table Match, as well as a WWE Championship Triple Threat between champion Dolph Ziggler, former champion Edge, and former ally of Ziggler, Daniel Bryan. From SmackDown, the show featured three matches, the first of which was an I Quit Match between Intercontinental Champion Damien Sandow and former tag team partner gone rival, Cody Rhodes, as well as a WWE Tag Team Championship Extreme Rules Match between the champions Bad Influence and the newly formed team of Rey Mysterio & Sin Cara. Finally, in SmackDown's main event, the show featured a Night of Champions rematch between former champion The Rock, and current champion CM Punk for the World Heavyweight Championship.
Event
In the opening match, Ted DiBiase Jr. defeated Yoshi Tatsu to retain the Light Heavyweight Championship following a Dream Street. In the second match, The Real Americans defeated The Disciples of Darkness to win the World Tag Team Championship, when Jack Swagger put The Crimson Blade through a Table via a Gutwrench Powerbomb. Cody Rhodes then recaptured the Intercontinental Championship from Damien Sandow, forcing Sandow say "I Quit" after bloodying Sandow in a brutal matchup. In the fourth and final midcard match, Bad Influence retained the WWE Tag Team Championship against Rey Mysterio & Sin Cara when Kazarian pinned Sin Cara on the outside.
In the first of the three main event matches, Sheamus retained the NXT Championship against Samoa Joe despite NXT General Manager Ted DiBiase's involvement in the match and multiple attempts to screw the champion and stop The United Kingdom's takeover of NXT. From SmackDown, CM Punk retained against The Rock following a GTS to the former champion. In the main event, Daniel Bryan defeated former partner Dolph Ziggler to win the WWE Championship when he forced Ziggler to tap out to the Lebell Lock.
Results
Ad blocker interference detected!
Wikia is a free-to-use site that makes money from advertising. We have a modified experience for viewers using ad blockers

Wikia is not accessible if you've made further modifications. Remove the custom ad blocker rule(s) and the page will load as expected.