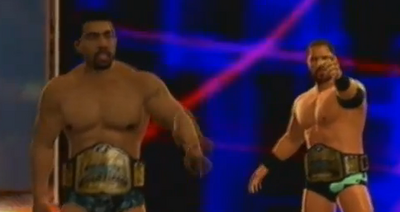 David Otunga & Michael McGillicutty are a former tag team in the WTX Universe.
They were declared the first ever WWE Tag Team Champions which was their only championship reign.
Career
First ever WWE Tag Team Champions (2012)
David Otunga & Michael McGillicutty were declared the first ever WWE Tag Team Champions on the debut episode of WTX Universe on January 29th 2012, they did not work a match as a tag team until their first championship defence at Elimination Chamber (2012) in which they retained against The Legacy (Cody Rhodes & Ted DiBiase Jr.) via DQ.
They teamed up once again at Wrestlemania XXVII to defend their WWE Tag Team Championships against Raw's own World Tag Team Champions Big Show & Kane, Otunga & McGillicutty got the upset win to retain their championships.
Despite the WWE Tag Team Championships belonging to SmackDown, new Raw tag team Team D-Z (a team consisting of Daniel Bryan & Dolph Ziggler) were given a shot at Otunga & McGillicutty at Extreme Rules in a Table Match, D-Z ended up winning the match ending Otunga & McGillicutty's reign as champions.
Championships and Accomplishments
Ad blocker interference detected!
Wikia is a free-to-use site that makes money from advertising. We have a modified experience for viewers using ad blockers

Wikia is not accessible if you've made further modifications. Remove the custom ad blocker rule(s) and the page will load as expected.