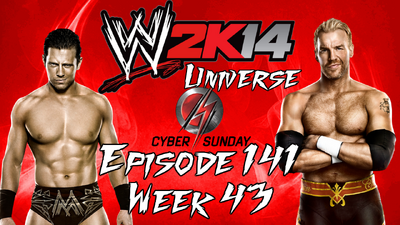 Cyber sunday (2014) was a special event that took place within the WTX Universe, it took place on August 31st 2014.
Background
This was the second annual Cyber Sunday event to take place in the WTX Universe. It took place just two weeks after SummerSlam and will be followed three weeks later by Night of Champions.
There were seven professional wrestling matches determined by the audience who created the entire event via votes with the most popular match card winning and being the event that would take place at the end of August.
The match card formula required that three world championship main events were booked and four midcard/tag/women's championships were also to be defended. The rules for voting were that it can be any challenger for any championship as long as it is within their respective brand and that no wrestler currently unsigned to the Universe is voted for. The voter could also determine any stipulation they like for the PPV with creativy encouraged to make this event different to any usual event.
The winning vote was determined with 20 upvotes as a match card by YouTube user XxPIDGEONxX Fly.
Event
The event saw only two championships change hands, the opening match saw Randy Orton dominate Leo Kruger brutally before putting him away with one last RKO to win his second Intercontinental Championship. The other three midcard matches saw title retentions as Zack Ryder overcame challenger Sami Zayn, despite Matt Hardy's best efforts he could not defeat the Big Show inside the Steel Cage. In the final midcard match The Fallen's AJ Styles & Raven dominated The Wyatt Family's Erick Rowan & Luke Harper.
The first two main events saw successful championship defences as Corey Graves got his first successful defence in a match he had never won, a TLC Match, against his rival Bray Wyatt and another upcoming star in Batista. The Miz sqaushed Christian in what was changed to an I Quit Match for the WWE Championship to retain. The main event saw a new World Heavyweight Champion as Triple H won his first world title making The Rock submit with a sleeper hold. The match saw The Great Destroyer, Cesaro & The Rock also gain victories throughout the match with Triple H getting his first fall not long before his second.
Results
Ad blocker interference detected!
Wikia is a free-to-use site that makes money from advertising. We have a modified experience for viewers using ad blockers

Wikia is not accessible if you've made further modifications. Remove the custom ad blocker rule(s) and the page will load as expected.