Cyber Sunda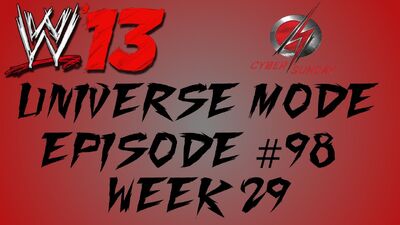 y (2013) was a pay-per-view event produces by WTXJaichi and was held on 16th June 2013 in an undisclosed location.
Background
This was the first "Cyber Sunday" event to take place in the WTX Universe. It took place after May's Extreme Rules 2013 and before July's Money in The Bank 2013, however due to copyright claims Money in The Bank 2013 has been permanently lost and it can now be considered that August's SummerSlam 2013 is the follow up event.
There were seven professional wrestling matches on the events card. It was the second pay-per-view event in WTX Universe history in which fans votes determined the matches however this was slightly altered as instead of fans booking the entire event they instead had the chance to choose between multiple options they were given. The show consisted of a WWE Tag Team Championship match, a United States Championship match, a World Tag Team Championship match, an Intercontinental Championship match as well as the three major championships, the NXT, World Heavyweight and WWE Championships also being defended.
Event
The show saw four new champions emerge in the opening bout WWE Tag Team Champions "Evolution" Batista & Randy Orton lost their gold to Team Rhodes Scholars, the team of Damien Sandow & Cody Rhodes. Newcomers "The Disciples of Darkness" The Great Destroyer & Crimzon were voted into the World Tag Team Championship bout with current champions "The Nation of Domination" Mark Henry & Farooq and came out of the event with a huge upset win in what would become a history making World Tag Championships reign. Also that evening Brock Lesnar conquered Ryback to become Intercontinental Champion and Samoa Joe won the ECW Championship from CM Punk with help from Special Referee, Rob Van Dam.
In the three title retentions, Randy Savage managed to overcome the odds and defended his United States Championship against challengers Antonio Cesaro & Eddie Guerrero. World Heavyweight Champion Shelton Benjamin pulled off a huge win against Sting and finally in the main event Dean Ambrose managed to retain his WWE Championship in a Armageddon Hell in a Cell that featured his other Shield teammates, Seth Rollins & Roman Reigns, as well as challengers Scott Steiner, Bobby Lashley & The Undertaker.
Results
Voting results
Poll
Results
Which match would take place

Women's Championship Match (8 votes)
Hardcore Championship Match (6 votes)
WWE Tag Team Championship Match (23 votes)

Opponent for Randy Savage

Eddie Guerrero (3 votes)
Antonio Cesaro (3 votes)
Eddie Guerrero & Antonio Cesaro (41 votes)

Opponents for Nation of Domination

Jeri-Show (1 vote)
The Dudley Boyz (3 votes)
Nash & Hall (7 votes)
Team D-Z (8 votes)
The Shield (14 votes)
The Disciples of Darkness (16 votes)

Stipulation for Brock Lesnar vs. Ryback

Last Man Standing (10 votes)
Table (10 votes)
I Quit (27 votes)

Stipulation for CM Punk vs. Samoa Joe

Submission (13 votes)
Steel Cage (16 votes)
Special Referee (18 votes)

Opponent for Shelton Benjamin

Kevin Thorn (12 votes)
Christian (16 votes)
Sting (19 votes)

Opponents for Dean Ambrose

The Undertaker (12 votes)
The Undertaker, Scott Steiner & Bobby Lashley (13 votes)
The Undertaker, Scott Steiner, Bobby Lashley, Seth Rollins & Roman Reigns (22 votes)
Ad blocker interference detected!
Wikia is a free-to-use site that makes money from advertising. We have a modified experience for viewers using ad blockers

Wikia is not accessible if you've made further modifications. Remove the custom ad blocker rule(s) and the page will load as expected.